Welcome to Durham County Library's Gaming page, your home for all things gaming in the library collection and event calendar. Explore the "Events" and "Collection" to see everything we have to offer. Enjoy!
Featured Event:
Dungeons & Dragons in the Library
Saturdays, Feb. 6 and Mar. 5, 2 p.m.; Tuesdays, Feb. 9 and Mar. 8, 6 p.m.
Main Library, 300 N. Roxboro St.
Delve deep into dark dungeons and face challenges to make the bravest hero quake with fear… all without leaving the library. Register up to four weeks in advance (Feb. 6; Feb. 9; Mar. 5; Mar. 8).
The waiting list for this program works a bit differently than most. In fact, without emailing jwdavis@dconc.gov, you won't even know if you're on the waiting list or not until the week of the program. This is to make it easier for new participants to get a seat at the table, and for players who haven't played for a while (but who can't be sitting at the computer Wednesday at noon clicking refresh) to play again. Again, email jwdavis@dconc.gov if you have questions.
Also, while you can register for more than one D&D program a month, you can only play-in/observe, and claim points for, one program per calendar month.

Featured Book: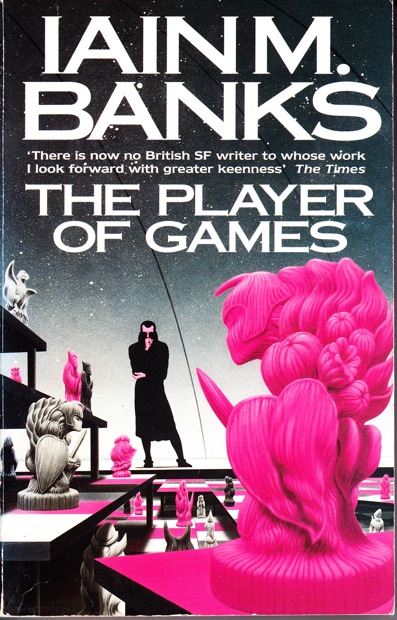 Player of Games by Iain M. Banks
F BANKS
A distant-future space opera and sequel to Consider Phlebas, this book features an encounter with a society whose very structure depends on an immense game. From the publisher: "The Culture – a human/machine symbiotic society – has thrown up many great Game Players, and one of the greatest is Gurgeh. Jernau Morat Gurgeh. The Player of Games. Master of every board, computer and strategy. Bored with success, Gurgeh travels to the Empire of Azad, cruel and incredibly wealthy, to try their fabulous game…a game so complex, so like life itself, that the winner becomes emperor. Mocked, blackmailed, almost murdered, Gurgeh accepts the game, and with it the challenge of his life – and very possibly his death."
All the upcoming gaming events for all age groups at the library — come and see us!
The library has many books and other materials about games and gaming, including instructions, fiction with games as a theme, and much more.  Here's a selection of what we have to offer!